Residential And Commercial Boiler Installation Llanedeyrn
Have a brand new A+ rated gas boiler installed and start to save money on your energy bills now.
Free Quotations
Top Quality Workmanship
Gas Safe Registered
Affordable Prices
Request A Free Quote
Do You Need A Boiler Installation Quotation
Do you own property with a broken or faulty boiler? Have you considered replacing it? Or maybe you simply want to schedule regular servicing so your heating system runs efficiently and lasts longer. Then you need a Gas Safe registered boiler engineer.
The good old gas boiler is the core of any hot-water or heating system. Because your boiler plays such a vital role in keeping you warm and providing hot running water it works harder than any other part of your heating system. This is why your boiler will be more expensive to maintain and use more energy as it gets older. So it is more cost-efficient to replace your commercial boiler at the end of its useful life, which can be anywhere from 10-15 years. Plus modern technology has made boilers a lot more efficient.
A central heating boiler is only as good as the installation and the gas boiler installation technicians who we work with have perfected their installation techniques for many years and are so certain of the gas boilers they supply and their central heating boiler installation service that they offer up to a Ten Year parts and labour warranty with many the new gas boilers installed.
The Gas Safe Registered team of gas boiler technicians who we work with provide gas boiler installation and gas boiler replacement for homeowners in Llanedeyrn, and across the South Glamorgan area. They have years of experience installing and replacing gas boilers from the top brand names including Baxi, Glow-worm, Vaillant, Ideal, Viessmann, Worcester-Bosch plus many more.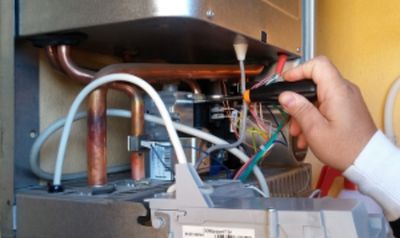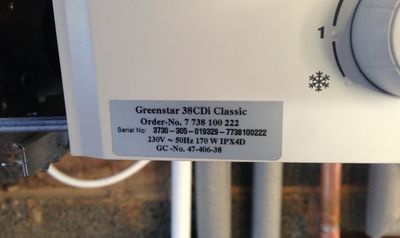 If you are searching for Commercial or Residential Gas Engineers for Boiler installation, servicing, any sort of repair or routine maintenance in Llanedeyrn or the surrounding areas then please give us a call
Commercial Boiler Installation
Domestic boilers can run up to 70kw. Boiler installations are considered to be commercial if they exceed 70kw. An example of a commercial installation would be two 50kw Boilers connected to one system. The total output is more than 70kw. Not only are our gas engineers Gas Safe registered, but they are also licensed to work on commercial boilers of all sizes.
It doesn't matter how large or small your commercial boiler system installation might be, Our gas engineers will assist you in designing and installing the perfect heating system for your premises. They can install, service, repair and replace boilers from trusted brands like Bosch, Vaillant, Worcester, Baxi and Hamworthy. This is for all businesses, large and small.
Our gas engineers are more than just qualified to install or replace commercial boilers, they also have the skills and knowledge to repair and maintain them. Our Gas Safe-registered heating engineers are qualified to handle any boiler service problem. Working with our Gas Safe registered engineers means that you are guaranteed a top-quality service.
What Is The Cost Of A Boiler Installation?
Because each property is different, it is very difficult to estimate how much a new boiler might cost. However, there are three important things you need to think about when considering the cost of a new boiler.
1. The price of the boiler itself.
2. The cost to have it installed by a qualified gas engineer.
3.It's running costs and maintenance.
Who Can Install My Gas Boiler
Gas, fuels and products of combustion can prove to be extremely hazardous, therefore, there is a lot of legislation that covers gas appliances and boilers as well as the work they are subject to. There is a lot of legislation that applies to gas boilers and appliances. This is why it is so important to use boiler engineers who have the expertise and capability necessary for compliance.
The UK law requires that gas boilers be installed according to Gas Safe regulations and only by qualified, gas safe registered engineers. Gas Safe registered gas engineers are licensed to repair, service, and install gas boilers and gas appliances.
They have the qualifications and experience to not only install the right boiler in your property, but also make sure it is installed in accordance with the most recent legislation.
If you are searching for Commercial or Residential Gas Engineers for Boiler installation, servicing, any sort of repair or routine maintenance in Llanedeyrn or the surrounding areas then please give us a call
Why Would I Need A New Boiler?
A new boiler can save you money in the long-term. If you have an underpowered boiler then it will have to work harder to heat your property, costing you more in energy. Your boiler will wear out faster than it should, and you will then end up having to replace it sooner than you should have. The boiler system will be tailored to your needs and programmed to provide the best energy efficiency, which will help you save money over time. If your boiler has an EPC rating of F or higher, then legally it must be replaced to keep in line with the Government's Energy Act.
How Often Should Your Boiler Be Replaced?
Boilers typically last between 10 and 15 years, however, they can last longer if they are well-maintained and regularly serviced. When servicing your boiler, the gas engineer will be able to identify signs that it is faulty or not working as efficiently as it should and tell you when you should be thinking about replacing it. This can save you a lot of time, and even inconvenience.
If you are searching for Commercial or Residential Gas Engineers for Boiler installation, servicing, any sort of repair or routine maintenance in Llanedeyrn or the surrounding areas then please give us a call
Other areas near Llanedeyrn we cover include: